Most veteran moms know all about the facts and benefits of breastfeeding her baby. However, many new moms often don't know where to turn to find reliable information and often feel overwhelmed by all of the so-called "facts" that are out there. It's best, of course, to consult with her doctor, nurse and a lactation consultant first. In the meantime, there's a world of information online for further research prior to giving birth.
I am passionate about encouraging new and veteran moms to breastfeed their babies, so I'm sharing some Breastfeeding 101 information with those ready to find power in knowledge before beginning.
Did you know that the American Academy of Pediatrics recommends exclusive breastfeeding for baby's first six months? However, with only 13% of new moms actually following through to the six-month mark, it is important to keep encouraging women to breastfeed their babies as long as possible.
Here are some facts on breastfeeding and the benefits for mom and baby:
Breast milk provides baby with all the necessary nutrients for healthy development. It also contains antibodies to ward off common childhood illnesses.
Breastfeeding causes moms to burn up to an extra 500 calories per day.
For moms, breastfeeding reduces the risk of breast and ovarian cancer later in life. It also lowers rates of obesity!
Infants will breastfeed until they feel full and on average, they remove 67% of mom's available milk. With a bottle, babies typically feed until the bottle is empty.
Adults who were breastfed as babies are less likely to be overweight or obese, and they perform better in intelligence tests.
Breastfeeding exposes baby to several different tastes and smells which can influence a child's acceptance of food when weaning.
Mom's breast milk completes the development of baby's stomach lining, making it 15x thicker than that of a formula-fed baby.
It's helpful for nursing moms to get support from others; about 73% of moms get outside help for breastfeeding problems.
Breastfeeding helps babies regulate their breathing (newborns have immature respiratory systems).
Breastfeeding soothes babies and can be a pain reliever – breast milk contains endorphins that calm baby.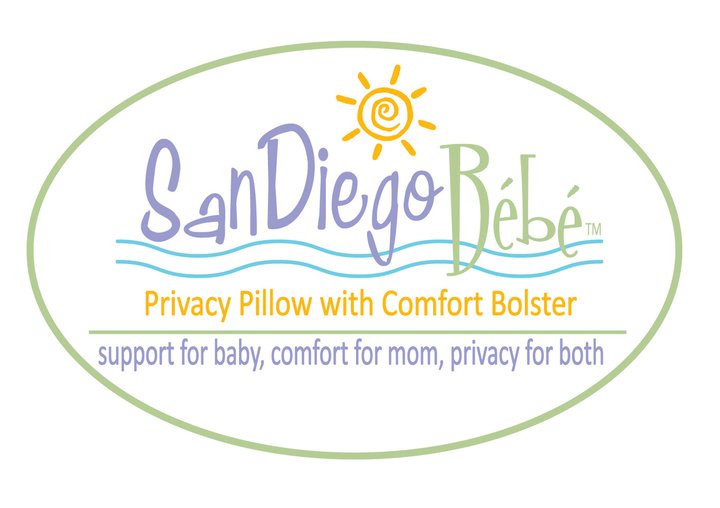 Guest Blog by Sandy Clark, Inventor of San Diego Bebe Eco-Nursing Pillow
San Diego Bebe® was designed by San Diego native Sandy Clark, a passionate breastfeeding advocate and mother of twins. Clark was inspired at a San Diego beach one day where she witnessed a young mother unsuccessfully nursing her baby. As the mother struggled to keep a blanket across her shoulder for privacy while her baby wailed from heat and hunger, Clark vowed then and there to design a product that would help resolve the issue of discretion while nursing in public. San Diego Bebe® was born that day.
After Clark read a recent Duke University study on toxic chemicals in baby products, she sent her nursing pillow to Duke to be tested and reviewed. Duke University Chemical Scientist Dr. Heather Stapleton, the nation's leading fire-retardant research specialist, and a new mother herself, said, "It's wonderful to find a nursing pillow on the market that is not treated with chemical flame-retardant additives in the filling material. San Diego Bebe® Eco-Nursing Pillow is not only a very supportive pillow with amazing features for discreet nursing, but is also free of flame-retardant chemicals that have been shown to cause adverse health effects in animal studies. I applaud this manufacturer for taking steps to produce high quality products that meet the same flammability standards without using these chemicals."
San Diego Bebe® Eco-Nursing Pillow is the healthiest and most innovative nursing pillow on the market. Made with virgin Eco*Loft™ fiber, a non-toxic and hypo-allergenic foam-alternative, it's void of harmful chemicals. It's also recyclable and eco-friendly. San Diego Bebe® is available in two versions, for nursing one baby or twins. The entire line is baby-safe, and is covered with deluxe plush fabrics including organic cotton.
Click to view a Nursing Pillow Comparison Chart to learn more.
Interested in writing a guest blog for 5 Phases? Send your topic idea to pr@5phases.com.
All data and information provided on this site is for informational purposes only. 5 Phases makes no representations as to accuracy, completeness, current-ness, suitability, or validity of any information on this site and will not be liable for any errors, omissions, or delays in this information or any losses, injuries, or damages arising from its display or use. All information is provided on an as-is basis.
Photo Credit: Mothering Touch via Compfight cc