Choosing to breastfeed is one of the many selfless decisions moms make when a baby is first born. Breastfeeding rates increased 77% in America in 2013.If you are one of the moms choosing to make this investment in your baby's health, kudos! Now it's time to tackle something a lot harder than it looks: breast pumping! Here are some tips for first timers.
1. Pump in peace.
Many moms attribute peaceful thoughts about baby to their steady breast milk flow. Being at ease and comfortable naturally aids the process of breast pumping, so putting the phone down and shutting off the TV may relax you right into perfect pumping session. Try focusing solely on your baby's voice and your peace of mind when it's time to pump. Massaging your breasts before you pump is also helpful.
2. Pump on a schedule.
Your goal is to keep a steady supply of breast milk. Coordinating your breast pumping sessions with baby's feeding time can be tremendously helpful in doing this. Many moms recommend pumping as soon as an hour after your baby's morning meal. Some breastfeeding pros get comfy with a pillow and pump one breast while baby nurses on the other! Whether you're home or even at work, set specific times to pump to ensure consistent results.
3. Pump pain free.
As gut wrenching as mechanically extracting milk from your nipples may sound, breast pumping shouldn't hurt! If your breasts are coated with lanolin, you're using the appropriate size breast shields and you're still experiencing pain, your pump suction level could be the source. Turning your breast pump up to the maximum suction setting can be very painful for some mothers and not others. If simply reducing the pumps power doesn't do the trick, it may be a good idea to consult with your doctor.
4. Save some for later.
Planning ahead can only go so far. Sometimes our breasts are just not as responsive. This is why it's great to master the breast milk storage game. While serving only the freshest milk to your baby is the goal, breast milk can indeed be saved. 5 days is the average time breast milk can be stored in the refrigerator. Frozen breast milk can even be stored for up to 6 months but should not be refrozen!
What are some tips that have worked for you on your breast pumping journey? Share your tips with us below!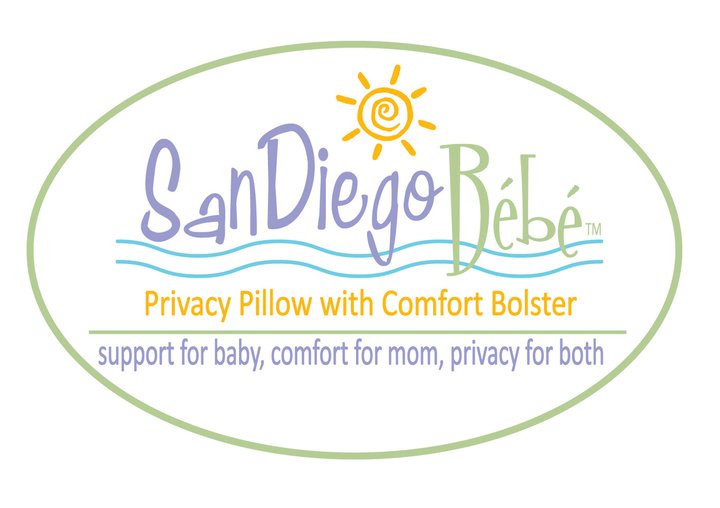 Guest Blog by Sandy Clark, Inventor of San Diego Bebe Eco-Nursing Pillow
San Diego Bebe® was designed by San Diego native Sandy Clark, a passionate breastfeeding advocate and mother of twins. Clark was inspired at a San Diego beach one day where she witnessed a young mother unsuccessfully nursing her baby. As the mother struggled to keep a blanket across her shoulder for privacy while her baby wailed from heat and hunger, Clark vowed then and there to design a product that would help resolve the issue of discretion while nursing in public. San Diego Bebe® was born that day.
After Clark read a recent Duke University study on toxic chemicals in baby products, she sent her nursing pillow to Duke to be tested and reviewed. Duke University Chemical Scientist Dr. Heather Stapleton, the nation's leading fire-retardant research specialist, and a new mother herself, said, "It's wonderful to find a nursing pillow on the market that is not treated with chemical flame-retardant additives in the filling material. San Diego Bebe® Eco-Nursing Pillow is not only a very supportive pillow with amazing features for discreet nursing, but is also free of flame-retardant chemicals that have been shown to cause adverse health effects in animal studies. I applaud this manufacturer for taking steps to produce high quality products that meet the same flammability standards without using these chemicals."
San Diego Bebe® Eco-Nursing Pillow is the healthiest and most innovative nursing pillow on the market. Made with virgin Eco*Loft™ fiber, a non-toxic and hypo-allergenic foam-alternative, it's void of harmful chemicals. It's also recyclable and eco-friendly. San Diego Bebe® is available in two versions, for nursing one baby or twins. The entire line is baby-safe, and is covered with deluxe plush fabrics including organic cotton.
Click to view a Nursing Pillow Comparison Chart to learn more.
Interested in writing a guest blog for 5 Phases? Send your topic idea to pr@5phases.com.
All data and information provided on this site is for informational purposes only. 5 Phases makes no representations as to accuracy, completeness, current-ness, suitability, or validity of any information on this site and will not be liable for any errors, omissions, or delays in this information or any losses, injuries, or damages arising from its display or use. All information is provided on an as-is basis.